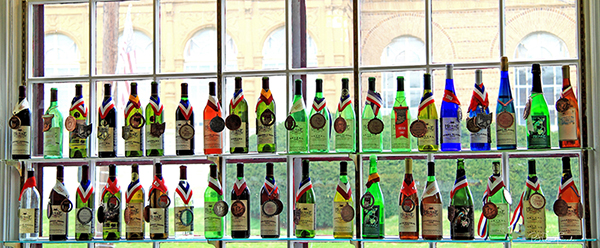 Honors and Awards
2019 Ohio Wine Competition
2017 Chardonnay.- DOUBLE GOLD
2018 Norton - Gold
2018 Cellar Blush - Silver
2017 Riesling - Bronze
2016 Merlot - Bronze
2019 Cincinnati International Wine Festival
2016 Cabernet Franc - Silver
---
2018 Cincinnati International Wine Festival 00
Cabernet Franc -Gold
2018 Director's Choice Award - Best Red Wine
Vin de Rouge
---
2017 Indy International wine competition
8 for 8


2014 Vendange A Trois - Gold
2015 Vidal Blanc - Silver
2014 Vin De Rouge - Silver
2015 Chardonnay - Silver
2015 Red Zinfandel - Silver
N/V Norton - Bronze
2015 Cellar Blush - Bronze
2015 Cabernet Franc - Bronze
2017 Ohio Wine Competition
10 for 10
2015 Vidal - Silver
2015 Cellar Blush - Silver
2014 Merlot - Silver
2014 Vendange A Trois - Silver 2015 Red Zinfandel - Silver
2014 Vin De Rouge - Silver
2013 Norton - Bronze
2015 Cabernet Franc - Bronze 2016 Riesling - Bronze
2015 Chardonnay - Bronze
---
---
2015 Indy International Wine Competition
8 for 8
2012 Cabernet Franc - Gold
2013 Cellar Blush - Gold
2012 Vendange A Trois - Silver 2013 Vin de Rouge - Silver
2013 Riesling - Silver |
2013 Vidal - Silver
2013 Chardonnay - Bronze
2011 Norton - bronze
2015 Fingerlakes International Wine Competition
2012 Vendange A Trois - Silver
2012 Cabernet Sauvignon - Bronze
---
2014 Indy International Wine Competition 5 more medals
2012 Cabernet Sauvignon - Concourse gold
2012 Cabernet Franc - Silver 2012 Chardonnay - Silver
2013 Vidal - Silver
2012 Vendange A Trois - Bronze
2014 Ohio Wine Competition
6 for 6
2011 Merlot - Concourse Gold
2012 Chardonnay - Silver
2012 Vendange A Trois -Silver
2012 Seyval - Silver
2011 Cabernet Franc - Bronze
N/V Norton - Bronze
2014 Fingerlakes International Wine Competition
6 for 6
2012 Chardonnay - Silver
2013 Cellar Blush - Silver
2012 Vidal - Bronze
2012 Cabernet Sauvignon - Bronze
2011 Merlot - Bronze
---
2012 Indy International Wine Competition
Henke Winery was awarded 7 medals:
Cellar Blush - GOLD
Vidal , Vin de Rouge, Chardonnay, Cabernet Franc - SILVER
Norton & Seyval - BRONZE
---
2012 Ohio Wine Competition
A panel comprised of 10 wine professionals judged 268 wines from wineries all over
Ohio. Henke Winery entered 11 wines this year-all 11 medaled as follows:
Cellar Blush 20011 - BEST OF SHOW BLUSH/ROSE
Vendange a Trois 2010 -GOLD
Vin de Rouge 2011 -GOLD
Chardonnay 2010-GOLD
Merlot 2009 -SILVER
Vidal 2011 -SILVER
Riesling 2011 -BRONZE
Cabernet Franc 2010 -BRONZE
Cabernet Sauvignon 2010 -BRONZE
Seyval 2010 -BRONZE
Norton NV - BRONZE
FINGER LAKES 2011
Henke Winery goes 6 for 6 at the Finger Lakes International Competition
Double Gold for Vendange A Trois
Gold for Riesling
Silver for Vin De Rouge and Cellar Blush
Bronze for Merlot and Chardonnay.  
---
THE 2010 OHIO WINE COMPETITION ( May 10-12)
Ten esteemed judges tasted and evaluated 236 entries from wineries all over Ohio.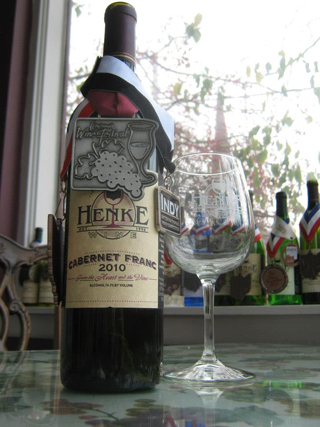 For the 3rd year out of the last four Joe Henke was honored with a Gold Medal for
"Best Of Show for Red Wines" for his
2009 Henke Vin De Rouge
(made entirely from locally grown grapes).

The other eight wines received recognition as follows:
· 2009 Henke Riesling - Gold Medal
· 2008 Henke Chardonnay, Cabernet Franc & Vendange a Trois – all received Silver Medals
· 2008 Henke Merlot- Bronze
· 2008 Henke Cabernet Sauvignon- Bronze
· 2008 Henke Seyval - Bronze
· 2009 Henke Cellar Blush - Bronze 
---
INDIANA INTERNATIONAL COMPETITION 2010
4 bronze for Vendange A Trois, Vidal, Vin de Rouge, and Riesling     
---
"WINEMAKING EXCELLENCE"
Wednesday, March 24th on the State House Floor, Ohio State Representative Denise Driehaus (District 31) and Speaker of the House Armond Budish presented Henke Winery an award for winemaking excellence and service to the community, committed to maintaining the highest industry standards. Please visit us on Facebook for more information and pictures from this event. Thanks for helping us make this possible.
---
FINGER LAKES INTERNATIONAL COMPETITION 2010
Henke Winery received two gold medal at the Finger Lakes International Competition. The wines are Vendange A Trois and Cabernet Sauvignon.      
---
OHIO WINE COMPETITION 2009
We entered 10 wines into the Ohio Wine Competition and won 10 awards.
Again Henke Winery can boast of having won the "Best of Show" for our 2008 Riesling.
Double Gold - Riesling, BEST OF SHOW
Gold - Norton, Vendange A Trois, Cabernet Franc
Silver - Reserve Cabernet Sauvignon, Vidal, & Cellar Blush
Bronze - Merlot , Vin de Rouge & Sparkling Chardonnay  
---
BEST OF APPELLATION COMPETITION 2009
We entered 3 wines and received 3 medals- all double gold!
Double Gold - Norton, 2008 Vin de Rouge, 2008 Vidal 
---
METALS FROM INDIANA INTERNATIONAL COMPETITION 2009
We entered 6 wines and received 6 medals!
Gold - 2007 Vendange A Trois, 2008 Vin de Rouge, (non vintage) Norton
Silver - 2008 Riesling, 2006 Sparkling Chardonnay
Bronze - 2007 Cabernet Franc    
---
Riverside International Wine Competition 2009
Held in Riverside County, California, Henke Wine received two medals.
Silver - 2008 Vin de Rouge
Bronze - 2008 Vidal Blanc
International Eastern Wine Competition 2009
Held in Elmira, New York, Henke Wine received three more international honors:
Silver - 2008 Vin de Rouge
Bronze - 2007 Vendange A Trois, 2007 Vidal Blanc
---
HENKE WINERY RECEIVES DIRECTOR'S CHOICE AWARD
Henke Winery was invited to the State House for the 2008 Ohio Quality Wines Program where Joe and Joan poured three wines, Vidal, Vin de Rouge and Norton. We are proud to announce the Norton won the Director's Choice Award for The Best Red Wine in the State for the second year in a row. Stop in to taste this award winning wine.
---
HENKE WINERY FEATURED IN USA TODAY...
Jerry Shriver, wine columnist for USA Today, released an article featuring wineries that are not attached to vineyards (urban wineries). To our surprise, not only were we mentioned but our winery was the example he used for this new trend in wineries in the United States. To view the article, please visit www.usatoday.com